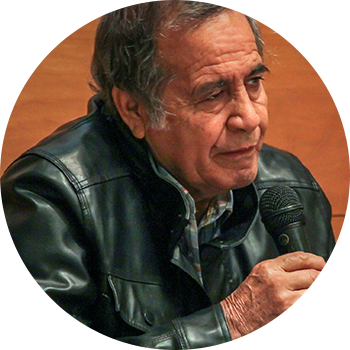 Mexico
Rights of migrants.
"Casa del Migrante de Saltillo."
Mexican priest defender of the rights of migrants. Member of the "Casa del Migrante", popularly known as "Belen, posada del migrante". Founded in 2000, located in Saltillo, 400 km from the Texas border, this hostel has hosted more than 50,000 migrants. It offers not only a roof for migrants but also has a health, legal, psychological and humanitarian service. It represents a refuge from the abuses and kidnappings suffered by migrants in transit to the United States.
Similarly, Father Pantoja actively denounces the involvement of the authorities in the business of immigrant kidnapping. "La Casa del Migrante", together with "Humanidad Sin Fronteras" and "Frontera con justicia", prepare annual reports on the situation of migrants in transit. Additionally, Father Pantoja and the organizations that make up the "Foro de Migraciones" report each case of kidnapping on the "Red del Registro Nacional de Agresiones" in Migrantesen. His complaints have reached the Inter-American Court of Human Rights in Washington where he has publicly expressed the risks that Central American migrants face in Mexico and has denounced the actions of the Mexican authorities.
Father Pantoja suffers from constant death threats and the "Casa del Migrante" is continually attacked by Los Zetas, the most violent criminal organization that operates in Mexico.
On the other hand, he has received several awards, including the Letelier-Moffitt International Human Rights Award from the Institute for Policy Studies in Washington, or more recently in February 2015, the "Consejo Nacional para Prevenir la Discriminación" (Conapred) gave to him the Award for Equality and Non-Discrimination 2014.
In 2016 the "Casa del Migrante", in which Father Pedro Pantoja works, signed an agreement with UNHCR to host refugees in search of a new future in Mexico.
> Qué le llevó a dedicar su vida a la defensa de los derechos de las personas migrantes?
Las condiciones de pobreza y supervivencia que viví en mi entorno familiar, la formación social del seminario de los jesuítas y, especialmente, las experiencias vividas como inmigrantes y como trabajador. He trabajado como obrero metalúrgico en México, como chofer de trailers de carbón en los Estados Unidos y como inmigrante "temporalero", explotado, en la Valle de la Muerte de California recogiendo uvas. Allí conocí el gran líder César Chávez y participé en la lucha social que impulsó. Todas esas experiencias, juntamente con el dolor de la migración forzada que empezó a cruzar Saltillo, es lo que me la llevado a dedicarme a la defensa de los derechos de los migrantes.
> Qué representa Belén, posada del migrante, para los migrantes?
Belén, Posada del Migrante, representa el oasis y el último reducto de protección, vida, animación y reencuentro con su supervivencia y su dignidad de migrantes golpeados y violados en México. Cada día se trabaja para que los migrantes hagan el proceso de la victimización a la subjetividad social. El migrante llega como víctima y tiene que salir con la conciencia y la dinámica de convertirse en sujeto social, histórico, emergente. Belén constituye el conjunto de todos los frentes de la migración: político, cultural, antropológico, social, jurídico, psicológico, salud mental, procesos regulatorios, religioso.
> Cómo funciona el negocio del secuestro de migrantes en México?
El secuestro es el mecanismo que genera más beneficios al crimen organizado, que ha conseguido poner a todos los actores de la violencia en contra de los migrantes: bandas criminales, maras, polleros, delincuencia común, halcones. El secuestro se ejecuta de forma violenta en todo el territorio mexicano (en los trenes, caminos, selva, ciudad, dentro y fuera de las casas de los migrantes).
Disponen de sus centros de cautividad llamados "Casas de Seguridad", lugar dónde consiguen mediante tortura la comunicación con los familiares de las víctimas para establecer el coste de la extorsión, que va desde 1.000 hasta 6.000 dólares. Hay empresas (Electra, Western Union) que se utilizan para las transferencias y lavado de dinero en estas acciones. Solo en el primer semestre de 2009 los beneficios obtenidos del secuestro ascendieron hasta los 25 millones de dólares.
> Qué petición haría a las autoridades mexicanas y de los Estados Unidos para mejorar la situación de los migrantes en tránsito?
Es necesaria una reforma estructural de la política migratoria que no sea restrictiva ni punitiva y que esté basada en un enfoque más humano. El fenómeno migratorio se tiene que ver con una verdadera crisis humanitaria y de justicia social, atrapada por la violencia y la pobreza extrema. La reivindicación histórica del derecho a migrar, el derecho a una migración sin violencia. Toda migración hay que verla como un beneficio para los países receptores y tienen que respetar todos los instrumentos universales de derechos humanos para la dignidad del migrante.
> A pesar de las amenazas, qué te impulsa cada día a seguir adelante con la lucha por la defensa de los derechos de los migrantes?
Ser parte, como defensor y como compañero de lucha, de los riesgos, las amenazas y la violencia contra los migrantes es convertirnos en actores de una nueva historia social. Es un privilegio y un oficio de lucha y transformación social inaplazable, es colaborar con la liberación y la dignificación de muchas víctimas. Es ejercer y vivir la fidelidad al Evangelio de la justicia, del amor activo y comprometido.