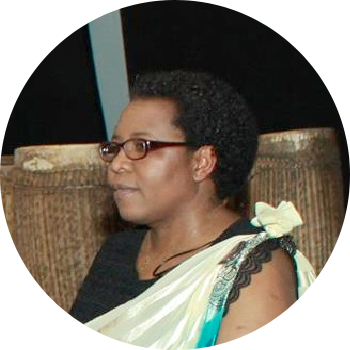 Marcelline Nyiranduwamungu
Rwanda
Right to freedom of opinion and expression.
Right to freedom of assembly and association.
Women's Rights.
"Réseau International des Femmes pour la Démocratie et la Paix".
Marcelline Nyiranduwamungu is a founding member and spokesperson of the RifDP (International Women's Network for Democracy and Peace), of the Belgian section.
The RifDP is a non-governmental organization operating in three countries (Belgium, the Netherlands and Canada). The organization, among other goals, is working in defense of the rights of African women and awareness about her role in conflict resolution, because she is the first to suffer in armed conflicts. It also aims to promote the leadership of women. The RifDP is constituted mainly by the African diaspora, and also deals with the problems arising from forced migration.
It is in this context that Marcelline Nyiranduwamungu organized a series of conferences that began in 2013 about the resilience and immigration. The topics covered are:
Build between two stories: the migration evidence of intergenerational transmission
The traumatic memories, resistance, resilience and generations
Resilience and migration
Resilience: For women of the region of the Great Lakes of Africa
Resilience, yes! And then …?
She was invited to provide oral or written comunications:
Rwandan dialogue highly inclusive in 2008, Spain
Being a woman today, 2013 Molenbeek (Belgium)
Understand sexual violence in armed conflict, 2015 Louvain-la-Neuve (Belgium)
Since the imprisonment of Ms. Victoire Ingabire, the RifDP decided to convene the Victoire Ingabire Award for Democracy and Peace in 2011. It is awarded every year by the International Day of Women's Rights in March, to people who work in defending human rights, especially in the Great Lakes region of Africa.
As part of the defense of human rights, RifDP, in collaboration with other associations, decided to participate in the concentration outside the Embassy of Rwanda in Brussels every Tuesday since 2010. Currently, the most worrying are the attacks by the Rwandan security forces against women living off street vending.
(Activities only in Catalan)