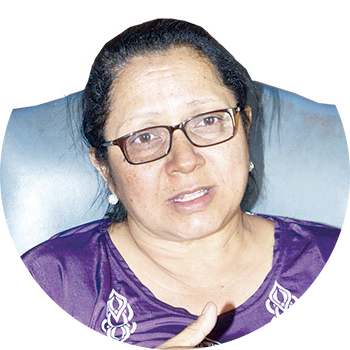 Honduras
Right of the LGTBI community.
Right to Health (prevention of HIV / AIDS).
"Asociación para una Vida Mejor de Personas Infectadas y Afectadas por el VIH-SIDA en Honduras (APUVIMEH)".
Sandra Zambrano is a human rights lawyer in the "Asociación para una Vida Mejor de Personas Infectadas y Afectadas por el VIH-SIDA en Honduras" (APUVIMEH). APUVIMEH, born in 2004, works with the community of lesbian, gay, bisexual, transgender and intersex as well as HIV/AIDS affected in Honduras. It also manages a shelter for LGBTI people with HIV/AIDS, the "Casa Renacer" and other projects, including a program for the prevention of HIV/AIDS and sexual infections and a project for young gay people.
In the late 90s, Sandra Zambrano discovered that one of his brothers, Juan de Dios, was living the final stages of AIDS. The family did not detect the infection until it was very advanced, and it was then when Sandra saw how discrimination works. His brother had a drinking problem, but he had never been fired from work for it. However, the dismissal came when it was known that he had AIDS. He, however, was not silent and reported the case to the media.
"We started fighting and we were not alone, even though there were many myths and legends", Sandra recalled in an interview last year. Later, another brother of the activist, José Zambrano, began to get involved in defending the rights of lesbian, gay, transgender, bisexual and intersex (LGTBI). Many José colleagues were infected with HIV, and this made both brothers start working on the reception of people suffering from AIDS.
The activity as a defender of human rights has brought Sandra to suffer numerous threats and intimidations. Also, her environment has been attacked. Sandra's daughter was kidnapped for several hours in 2013, and this year have left the country two of her nephews for security reasons. Another nephew, Allan Yoni Banegas Godoy, was kidnapped on last 13 May and later killed. APUVIMEH has since 2013 a precautionary measure of the Inter-American Commission on Human Rights (IACHR); in July 2015, it was requested the extension.
(Activities only in Catalan)
> Cómo empezó tu activismo por la defensa de los derechos de las personas LGTB y con VIH?
Desde muy joven, mi casa y la de mi abuela estuvieron habitadas por muchísimas personas LGTBI. Eran amigos y amigas de mi hermano José Antonio, activista de los derechos LGTBI en Honduras desde hace 32 años. Muchos de ellos murieron durante los años 80 y 90 por el VIH. Pero lo que más marcó mi vida fue la pérdida en 1997 de mi hermano Juan de Dios, que también era activista y nos dejó a causa de la pandemia. Mi lucha es familiar. El hecho que mis dos hermanos fueran activistas, sumado a la discriminación que sufrimos tanto mi familia como mis amigos muertos, me animó a seguir los pasos de José Antonio.
> Participas en distintos proyectos sobre VIH/SIDA y otras enfermedades de transmisión sexual. Cuáles son los problemas más importantes en este ámbito?
No recibimos ningún tipo de apoyo. El Estado no ha asumido ni su obligación de recoger en los presupuestos nacionales la financiación de los profesionales de salud capacitados por el Fondo Global. En los dos últimos años ha habido hasta ruptura de stock de terapias de rescate durante algunos meses, cosa que va en contra las personas que toman aniretrovirales.
> Háblanos de la Casa Renacer.
Nuestra organización cuenta con la Casa Renacer desde hace 13 años. Es un hogar temporal para personas que viven con el VIH. No hemos contabilizado cuánta gente ha pasado por ahí desde que la estrenamos, pero calculamos que deben ser alrededor de 2.000 personas o a lo mejor más. Acogemos a todas las personas que necesitan nuestros servicios, sin coste alguno. Ofrecemos alojamiento, alimentación, acceso a la medicación y a exámenes, apoyo psicosocial y ayuda para el empoderamiento y la reinserción a la familia. Habitualmente la gente nos llega a través de hospitales o de ONG, ya que como comentaba antes, no tenemos ningún apoyo del Estado. El gobierno no tiene este tema en su agenda política, pero sobrevivimos. El sistema de salud sufrió un proceso de transformación y han desaparecido los programas sobre infecciones de transmisión sexual y VIH.