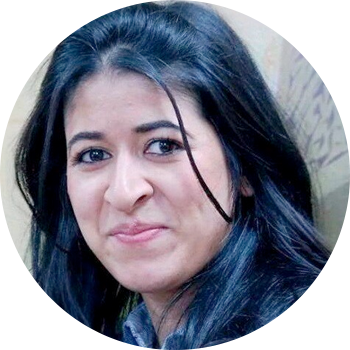 Morocco
Civil liberties and political participation.
Moroccan Association of Human Rights (AMDH).

Political activist and member of the Moroccan Association of Human Rights (AMDH) and Shabaka, a network of NGOs in northern Morocco. She is also a member of  "La Voie Démocratique" and the "February 20 Movement", political groups that pose political and constitutional reforms in Morocco. Wafae explains that the "February 20 Movement" was the result of the repression, marginalization, and exploitation of the Moroccan state of its people, who came to the streets to claim their rights under the slogan "dignity, freedom and social justice ". Although the government has not satisfied these demands, many people have lost their fear of raising their voice for a democratic society, but have suffered repression. Wafae fights mainly for labor rights and in 2014, when she participated in a peaceful demonstration of the Confederation of Workers of Tangiers, she was kidnapped, attacked and threatened. After informing the prosecution, the Moroccan police accused her of false allegations, arrested her, sent her to a psychiatric hospital and sentenced her to a year's imprisonment for calumnies against the police.
> Cuál és la situació de las prisiones en Marruecos?
La detención me ha dado la oportunidad de descubrir que pasa en estos sitios. Es sorprendente el discurso del estado marroquí, que habla de las prisiones como instituciones de rehabilitación, integración y ausencia de tortura. La realidad es todo lo contrario: tortura, marginación, exclusión y discriminación. Diariamente las prisioneras son objeto de sanciones máximas. En muchas ocasiones, tuve que intervenir condenando los hechos y ayudando a las prisioneras a enviar quejas a las autoridades y organizaciones de derechos humanos.
> Como ha sido tu experiencia en la prisión?
He tenido tiempo de leer, escribir un diario y escribir textos del poeta Shawqi a mi familia y a mi marido, y a la vez, de luchar con mis compañeros. Tenía la intención de publicar lo que he escrito en diarios electrónicos y libres, pero las condiciones económicas y sociales me lo ha impedido. Aún tengo la idea en la cabeza, y me urge hacerlo, pero esperaré para tener un poco de estabilidad económica y familiar.
> Has participado activamente en el M20F. Como valoras su evolución?
La emergencia del M20F fue el resultado de la acumulación de esfuerzos de activistas de muchos ámbitos vinculados a la lucha de clases en Marruecos. También fue consecuencia de la represión, marginación y explotación practicadas por el régimen marroquí contra su pueblo.
En el contexto de la Primavera Árabe, el pueblo marroquí se manifestó en más de 52 pueblos y ciudades reclamando derechos civiles y políticos, económicos y sociales, bajo el lema "Dignidad, libertad y justicia social". El estado ha intentado esquivar estas demandas y desactivar el movimiento ofreciendo promesas y reformas, pero el M20F ha conseguido objetivos que las fuerzas democráticas del país no habían alcanzado nunca. Ha sido capaç de romper el muro del miedo, resultado de años de cenizas y balas del reinado de Hassan II, y difundir la cultura de protesta entre todos los grupos sociales.
> Eres miembro del AMDH, una organización asediada por el estado marroquí, según Front Line Defenders.
Soy activista del AMDH desde hace siete años. En el seno de esta organización he aprendido, como miles de militantes, el alfabeto de la lucha por los derechos humanos y la dignidad, en Marruecos y en todo el mundo. El gobierno sigue atacando al AMDH, imponiendo restricciones y duras medidas contra la organización y sus miembros. Aún así, el esfuerzo y la constancia de los activistas incrementa la fuerza de la lucha contra los enemigos de los derechos humanos.