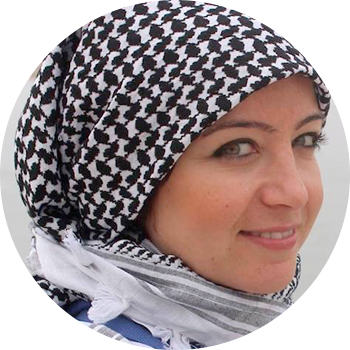 Zaina Erhaim is a coordinator of the Institute of War and Peace Reporting (IWPR) in Syria, and co-founder of the Local Coordination Committee in this country. In just a few months has received three prominent awards, the latest coming from the Reporters Without Borders for its defense of freedom of the press from one of the most dangerous cities in the world to be a journalist: Aleppo. Over the past two years, has trained more than 100 journalists in Syria, about one-third of these were women, in terms of the written media and television. It has helped also to establish many new newspapers and emerging magazines in this country at war.
When the revolution began in Syria Zaina lived in London, and then returned. She had never wanted to be a war correspondent, but she ended up being a reference figure of information that has left Syria in recent years. She has also trained others in citizen journalism and has been a coordinator of projects in Syria for the Institute for War and Peace Reporting. In her work, she has endeavored to make visible the everyday stories of the war, as she explained last year in an interview with CNN. "People are still struggling to live; this is what I'm trying to highlight", she said.
(Activities only in Catalan)
> Cuando estalló la guerra en Siria, vivías en el Reino Unido. Qué fue lo que te impulsó a volver?
Nunca pensé en vivir fuera de Siria. Cuando me fui en 2010 para estudiar un máster en Londres, dije a todos mis amigos y amigas que volvería, que nunca viviría en otro lugar. Cuando empezó la revolución, casi había finalizado mis estudios. Tan pronto como los terminé, volví a Damasco. Primero trabajé en la BBC, y aunque tenía que viajar mucho por su trabajo y por motivos personales, nunca estuve fuera durante más de seis meses. A principios del año 2013 me desplazaba entre Turquía y las zonas liberadas de Latakia y Deir Ezzor. Un año después, me trasladé a vivir hacía Alepo. Volví porque formo parte de Siria. Sentía que mi responsabilidad era ayudar a mi país y mi gente, y sabía que no sería capaz de hacerlo si estaba lejos de él. Además, la muerte y la detención de muchos amigos me hizo sentir intensamente que tenía que hacer alguna cosa.
> En tu discurso en la Cumbre Humanitaria Mundial, en mayo, dijiste que estás siendo castigada por distintas autoridades por ser mujer, periodista y siriana.
Como soy una periodista siriana, tengo prohibido desplazarme por la mayoría del territorio y de mi país. No puedo ir a las zonas controladas por el gobierno, que me ha incluído en las listas de cerca y captura de tres cuerpos de seguridad diferentes. Ser periodista es un crimen por el régimen de Al Assad, que me haría matar bajo tortura. Evidentemente, tampoco puedo ir a las zonas controladas por el Estado Islámico. Me quedan dos opciones.
Por una parte, puedo vivir con miedo bajo las bombas barril de Al Assad y los bombardeos rusos. Por otra parte, podría escoger lo que más asusta a muchos de vuestros gobiernos: migrar hacia la UE; pero esto no quiero hacerlo. Por el hecho de ser siriana, y aunque soy periodista, me tratan como una terrorista potencial en todos los aeropuertos donde aterrizo. No conozco ninguna definición mejor de discriminación.
Finalmente, como soy mujer estoy sujeta a muchas restricciones en relación con todo lo que hago, mis movimientos, lo que escribo, etcétera, especialmente en las sociedades conservadoras donde trabajo. A la vez, como soy una mujer siriana, soy utilizada por algunas ONG internacionales que impulsan iniciativas y grupos, con un estilo moderno y pro occidental, que no me representan.
> El año pasado presentaste el documental "Syria's Rebellious Women". Cuál era tu objetivo cuando lo filmaste? Qué impacto ha tenido?
El objetivo principal era documentar el gran y magnífico trabajo que están haciendo las mujeres en Siria, para que no se olvide y para que lo tengamos grabado en el momento de escribir nuestra historia. Por ahora es difícil hablar del impacto de la película. La mayoría de las proyecciones han sido privadas para proteger la seguridad de las mujeres que aparecen en el documental.