Virtual meeting "Human Rights Defenders facing the pandemic: threats, challenges an resistances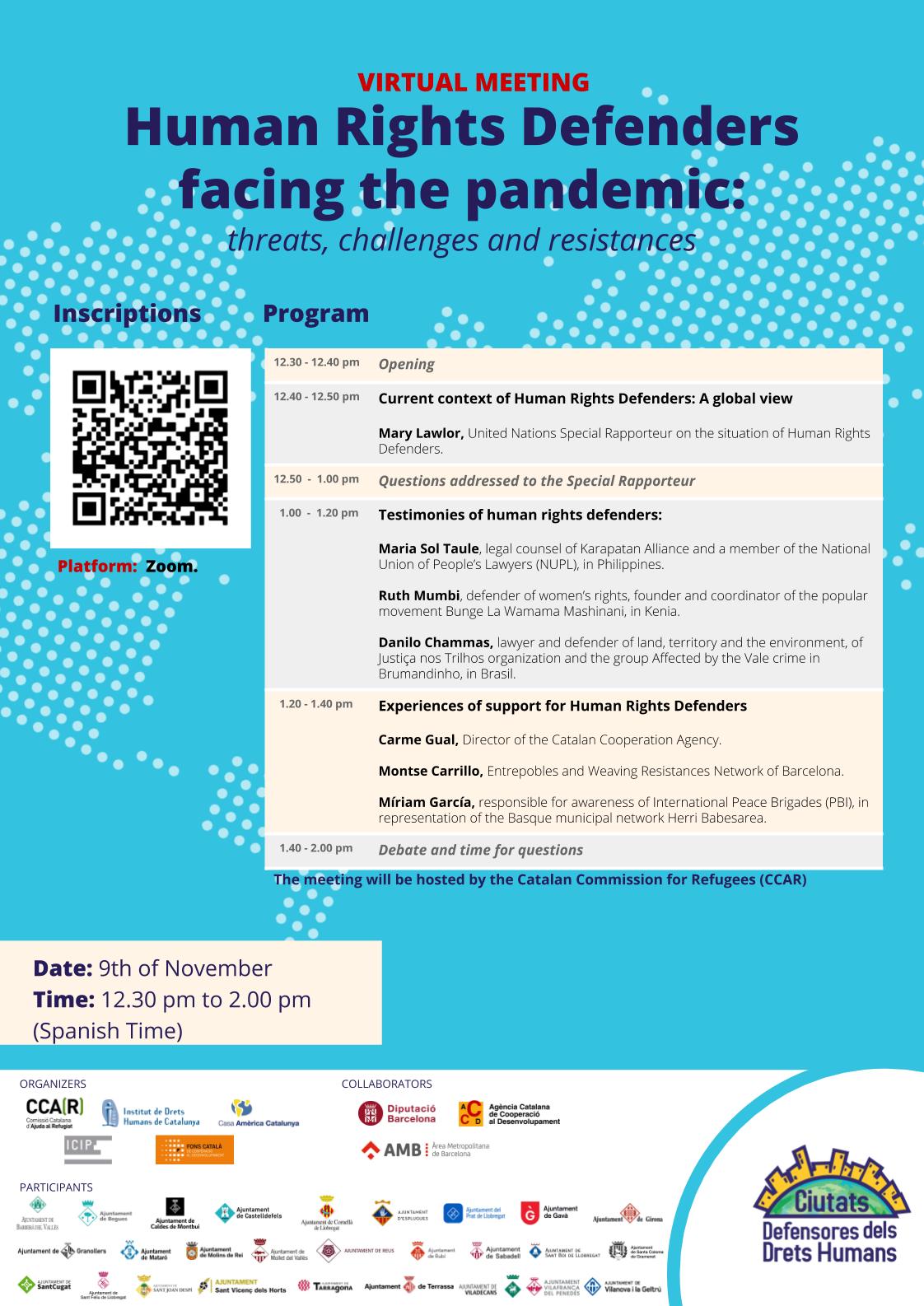 Cities Defending Human Rights, organizes the virtual meeting "
Human Rights Defenders facing the pandemic: threats, challenges and resistances
Date: 9th November
Time: 12.30 a 2.00 pm (Spanish Time)
Platform: online a through Zoom. Registration is required to participate: https://zoom.us/webinar/register/WN_0MvFnrOiS6GbOUUwaR51fw
Objective:
This meeting aims to generate a space for analysis, reflection and collective exchange of claims, proposals and challenges between Human Rights Defenders, specialists, organizations and institutions that work for the defense of human rights, both globally and locally.
We want to give value to and to make visible the task of Human Rights Defenders and their defense for a more just, equitable and sustainable world, weaving resistances of solidarity, support and protection to face the different risks and threats to which they are exposed, in a context of a global pandemic and the challenges and strategies of resistance.
Lenguage: Spanish and English (simultaneos translation)
Target audience:
Institutions, organizations and people who are involved in the defense of Human Rights
Activists and Human Rights Defenders
Workers and political staff of public administrations
Teachers, educators and academics
Citizenship, specifically young public, committed to and concerned about the respect and the guarantee of Human Rights
Program:
12.30 – 12.40pm Opening
12.40 – 12.50pm Current context of Human Rights Defenders: A global view
Speaker: Mary Lawlor, United Nations Special Rapporteur on the situation of Human Rights Defenders
12.50 – 1.00pm Questions addressed to the Special Rapporteur
  1.00 – 1.20pm Testimonies of human rights defenders:
Maria Sol Taule, legal counsel of Karapatan Alliance and a member of the National Union of People's Lawyers (NUPL), in Philippines.
Ruth Mumbi, defender of women's rights, founder and coordinator of the popular movement Bunge La Wamama Mashinani, in Kenia.
Danilo Chammas, lawyer and defender of land, territory and the environment, of Justiça nos Trilhos organization and the group Affected by the Vale crime in Brumandinho, in Brasil.
1.20-1.40pm Experiences of support for Human Rights Defenders:
Carme Gual, Director of the Catalan Cooperation Agency
Montse Carillo, Entrepobles and Weaving Resistances Network of Barcelona
Miriam García, responsible for awareness of International Peace Brigades (PBI), in representation of the Basque municipal network Herri Babesarea
1.40-2.00pm Debate and time for questions
The meeting will be hosted by the Catalan Commission for Refugees (CCAR)