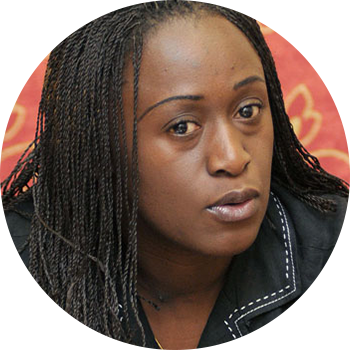 Democratic Republic of the Congo
Rights of women (sexual violence in armed conflict).
Right to Peace.
Freedom of expression.
Association of Women of the Media of Eastern Congo.
Caddy Adzuba was born in Bukavu, in the Democratic Republic of Congo, in 1981. Adzuba is a journalist, graduated in law from the University of Bukavu and founding member of the "Un altavoz para el silencio" Network. Her career is highlighted by a firm commitment to human rights and freedom of expression and denunciation of violence exercised against women and the use of children as soldiers.
She currently works at Radio Okapi, a station that broadcasts throughout the territory of the Democratic Republic of Congo and that came at the initiative of the UN.
She is a member of the Women's Association of Media in Eastern Congo, from where there have been made several allegations to the International Criminal Court and the United States Senate to denounce sexual violence suffered by women, especially since the country is at war since 1996.
She is the president of AFIDEP, an association that works with children in the development and promotion of values and focuses on training leaders.
In April 2009 she received the Journalism International Award Julio Anguita Parrado of the Federation of Unions of Journalists and the Prize of the Journalist Women's Association the "Club de las 25". In 2010 the International Press Freedom Award of the UNESCO Chair of Communication of the University of Malaga and in 2012 the prize "donnadell'anno" awarded by the Regional Council of Aosta Valley (Italy).
She moved to Barcelona in the month of February 2016 in the framework of the III International Forum DevReporter. The DevReporter network has two objectives: to renew the discourse on international cooperation in the media and improving the quality of international information.
(Activities only in Catalan)