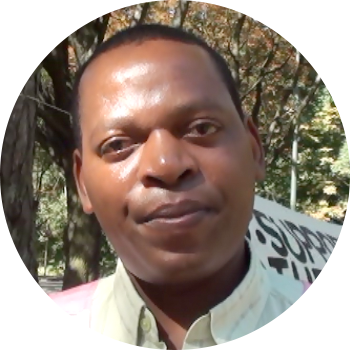 Rwanda
Right to freedom of opinion and expression.
Right to freedom of assembly and association.
United Democratic Forces (FDU) of Rwanda.

Lin Muyizere is a Rwandan activist and husband of Victoire Ingabire, president of the United Democratic Forces (UDF) coalition of opposition parties formed by members of the Rwandan diaspora. Both and their children took refuge in the Netherlands, just before the genocide in Rwanda, more than 20 years ago. In 2010, his wife returned to Rwanda in order to present her to the elections in his country, an action that ended with a sentence of 15 years in prison for the candidate for having a speech against the ideology of the ruling party. The husband of the "Rwandan Mandela" expects the international community to help bring good results, he spread the country's reality in the world and also promotes the book that his wife wrote from prison, "Entre les 4 murs du 1930".
Lin Muyizere, very critic with the regime of Paul Kagame, has seen jeopardized in recent times his right to reside in the Netherlands. In October 2014, he knew that the Dutch immigration services accused him of crimes of genocide, based on three anonymous sources. From the Human Rights Watch, Anneke Van Woudenberg warned: "It seems that the Dutch authorities have not studied or verified enough the information received. A decision of this kind cannot be based on vague suspicions. Mr. Muyizere is the husband of one of the Rwandan opposition figures that have been jailed after a process full of irregularities. […] The Dutch government must try not become a victim of political manipulation." The process against Muyizere is still open. If the indictment is confirmed, he could lose the Dutch nationality, achieved in 2011.
(Activities only in Catalan)
> Tanto tu como Victoire habéis cuestionado la ausencia de reconocimiento público del dolor vivido por los hutus en el conflicto ruandés y la censura de informes.
Está prohibido hablar de este tema en Ruanda: cuando una persona lo menciona, se le acusa de negacionismo, de doble genocidio y de otros males. En parte, mi mujer está pagando el hecho de haberse atrevido a hablar de todo esto en voz alta. Ninguno de los antiguos rebeldes del Frente Patriótico Ruandés (FPR), actualmente en el poder, no ha sido perseguido por sus crímenes, ni en el Tribunal Penal Internacional para Ruanda ni después de la publicación de un informe en la ONU (Mapping Report) que documenta muy bien las masacres de los hutus. Según este estudio, algunas de las matanzas pueden ser calificadas de genocidio. Otros informes anteriores, como el de Gersony (1995) o el de Garreton (1997) también han denunciado esas masacres. Sus autores han sido sistemáticamente marginados y, sus informes, censurados.
> Cuál es el rol de los medios de comunicación en relación a la ausencia de libertades que hay en Ruanda?
Excepto la BBC y Reporteros Sin Fronteras, la resta de medios de comunicación han pecado generalmente de exceso de optimismo y confianza en la propaganda del régimen del FPR.
A golpe de millones de dólares, pagados a agencias que actúan como lobbies, el gobierno ha conseguido presentar una imagen falseada de la realidad. Ha sido necesario que el régimen atacara a alguno de estos medios para que se dieran cuenta que se habían equivocado.
> Corres el riesgo que te retiren la nacionalidad neerlandesa y te expulsen a Kigali. En qué punto se encuentra este proceso actualmente?
Este proceso se tiene que enmarcar en los misterios del régimen de Kigali; en mi caso ha llamado más la atención, pero no es aislado. Cuando el régimen del FPR piensa que molestas, saca el arma del genocidio, y que hayas participado o no en el mismo, da igual. Hay hasta ruandeses muertos antes que se produjera el genocidio que han sido incluídos en las listas de genocidas. Personalmente, he sido acusado de crímenes relacionados con el genocidio a raíz de unas declaraciones que hice en Arusha, en calidad de testimonio protegido. He declarado ante los servicios de inmigración y ahora estoy esperando el veredicto.