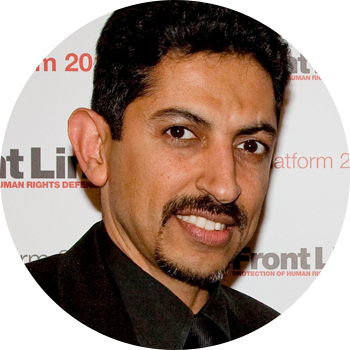 Bahrain
Right to freedom of opinion and expression.
Right to freedom of assembly and association.
[imprisoned]
Abdulhadi Al-Khawaja is a Bahraini human rights defender. After participating in several peaceful manifestations during the Arab Spring, he was arrested on 9 April 2011 and, according to witnesses of his family, was also hit. On June 22 of that year, he was sentenced to life imprisonment by the National Security Court, a military court; This sentence was later confirmed by another military court. Thirteen activists more were also sentenced: six to life imprisonment, four to fifteen years in prison, two to five years and one to two years.
In prison, Al-Khawaja was denied to have visitors and was prevented from receiving further medical treatment because of his sugar problems. The activist has complained that he has been subjected to torture and ill-treatment, as a result of which he had to be admitted to the military hospital of the Bahrain Defence Force, Al Riffa.
An Amnesty International observer, present at a session of appeal on 6 September 2012, concluded that it can be presented to the court any evidence proving that Abdulhadi Al-Khawaja and other thirteen activists committed a crime or participated in violent acts. Amnesty International believes that these fourteen activists did not have a fair trial and that they are all prisoners of conscience, imprisoned only for their peaceful and legitimate exercise of the rights to freedom of expression, association, and assembly.
On 25 August 2014, Adulhadi began a hunger strike that lasted 30 days. The family said that the activist ended this strike because other prisoners who were also on strike were getting sick. He said them to finish the strike, and they replied that they would only if he did as well. Abdulhadi ended the hunger strike on September 23, and the other detainees followed him.
One of the daughters of Adulhadi, Maryam Al-Khawaja, who participated last year in the "Ciutats Defensores dels Drets Humans" project, was arrested several times between August and September 2014. Another daughter, Zaynab al-Khawaja, was also jailed several times. After spending a year in prison to ask for the freedom of her father, was released in February 2014. Again on 14 March 2016 Zaynab was arrested another time at his home and was taken to prison with her 15 months old daughter. She was sentenced to three years in prison for having broken a picture of King Hamad bin Issa Al Khalifa of Bahrain. On 31 May 2016, the judicial authorities ordered to suspend the sentence, and Zaynab was released for "humanitarian reasons."
» Freedom for Abdulhadi Al-Khawaja!