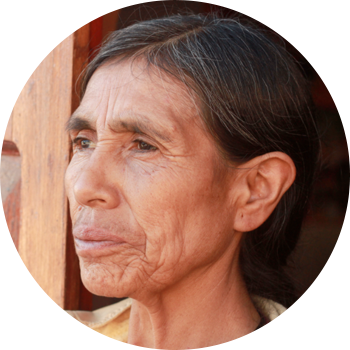 Peru
Women's rights.
Sexual and reproductive rights.
Right of ethnic and national minorities.
Association of Women of the Province of Huancabamba.

Esperanza Huayama is fighting since more than 20 years ago for the 300.000 indigenous women sterilized in force under the government of President Alberto Fujimori through the Program of Family and Reproductive Planning, directly designed to reduce the population and the birth control of indigenous women, and the poor and illiterate ones. Esperanza is a victim of forced sterilization and President of the Women's Association of the Province of Huancabamba (AMHBA), from which denounces this violation of human rights and a crime against humanity. Some women were killed in the intervention, others lost their babies while pregnant, and many still die today from infections.
"I could not read or write. In 1996, a doctor and a nurse appeared in my hamlet of Rodeopampa. The women, we were told we had to go down to Huancabamba to vaccinate our children. And in the hospital, that it was better to do us the [tubal] ligation to not to have more children. They said it was a government order. They did to me some tests and said that I was normal. They put me anesthesia and transferred me to a room to operate me. After a while, I heard a nurse saying: 'The lady was pregnant!'.
Apparently, I was 3 months pregnant, but I had not noticed. I begged the doctor not to do the surgery, that I preferred to have my son, but he ignored me. He did me a ligation of one of the fallopian tubes. I continued the pregnancy to eight months, with many complications, until I gave birth. But the baby was already dead." This is the hard story of Esperanza Huayama, collected by the journalist Sara Cuentas a couple of years ago in an article in "El País".
Huayama was one of the victims of the forced sterilization program promoted by the government of Alberto Fujimori in Peru, during the second half of the nineties. And it was also, then, a courageous voice that repeatedly denounced this serious violation of human rights. For over 10 years Esperanza holds leadership positions in AMHBA, institution that she presides since over a year ago. Within the AMHBA, Esperanza actively participates in the Committee of human rights of women sterilized in Huancabamba. Convinced that the organization of women is key to defend their rights, it is seen as one of the challenges of the near future the consolidation and strengthening of the "Asociación Nacional de Mujeres Peruanas Afectadas por las Esterilizaciones Forzadas".
(Activities only in Catalan)
> Cuál es la situación de las mujeres esterilizadas a la fuerza durante el gobierno de Alberto Fujimori?
Estamos mal, tenemos muchos malestares y sufrimos molestias permanentes en nuestros vientres. La mayoría han sido abandonadas por sus parejas, porque ya no podemos tener relaciones sexuales como antes. Muchas han tenido cáncer en la zona donde fueron operadas, otras ya han muerto. No podemos trabajar como antes, y en consecuencia, nos hemos empobrecido. Nuestros hijos y hijas han migrado hacia las grandes ciudades para ayudarnos con la economía.
> Qué avances se han producido en los ámbitos de la verdad, justicia y reparación?
En relación a la verdad, las esterilizaciones forzadas fueron denunciadas por nuestra amiga Giulia Tamayo y por distintas organizaciones y entidades del país. Pero por parte del Estado peruano aún esperamos que se cree una Comisión de la Verdad que investigue qué pasó realmente y quienes fueron los culpables. En referencia a la justicia, estamos pendientes que la fiscal Marcelita Gutiérrez se pronuncie sobre la responsabilidad del expresidente Alberto Fujimori y los exministros Eduardo Yong Motta, Marino Costa y Alejandro Aguinaga. La investigación se abrió hace 14 años y aún está pendiente de resolver.*
Para la reparación, el gobierno de Ollanta Humala ha dado un primer paso, que podemos calificar de simbólico. Se ha creado un registro único de víctimas (Reviesfo) para documentar todos los casos de mujeres que fuimos víctimas de la esterilización forzada en Perú. Se nos ha entregado, después de una entrevista personal con cada afectada, una ficha que nos reconoce como víctimas. Eso nos permitirá exigir con más fuerza que nos reparen y, además, con esta ficha tenemos acceso a un tratamiento prioritario en el Seguro Integral de Salud, gestionado por el Ministerio de Salud. También tenemos derecho a la atención en Centros de Emergencia para la Mujer, del Ministerio de la Mujer y Poblaciones Vulnerables. No es una reparación, pero si un reconocimiento.
---
* La fiscal dictó sentencia en julio y anunciaba el archivo de la denuncia. El AMHBA ha emitido un comunicado de rechazo en contra del archivo y la impunidad de los responsables del delito contra la humanidad.